Eoghan is leaving Reims, France today to begin his 4000 km cycling adventure from Lublin to Dublin.
PROTECT EARTH CHARITY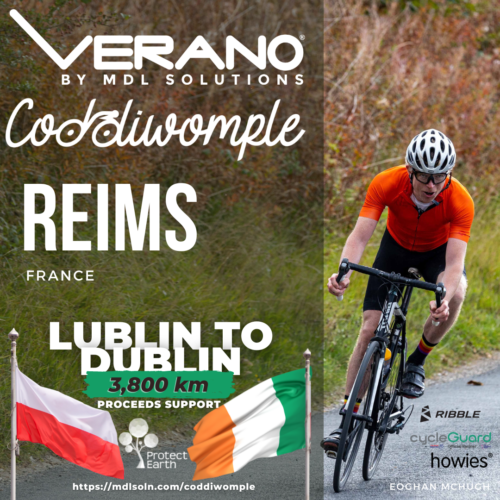 All donations made to Eoghan's journey will go towards the Protect Earth charity, which is dedicated to planting trees in order to help combat global climate change. Eoghan hopes that his journey will help raise both money and awareness for this important cause. You can follow Eoghan's progress at mdlsoln.com/coddiwomple, where he will be posting daily updates.
VERANO GLOBAL BY MDL SOLUTIONS – REIMS, FRANCE
Verano Global is proud to be a supporter and sponsor of this event as the global leader when it comes to environmentally friendly HVAC equipment. Verano by MDL products have been used for trench heaters, trench fan coils and AC fan coils. We specialize in saving money and the environment by reducing energy costs overall. We have a vision for clean manufacturing and working towards being the environmental leaders on HVAC equipment. We are excited to be a part of this event and to promote our commitment to the environment.